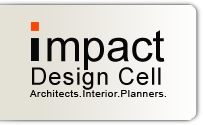 Mumbai head-quartered Impact Design Cell Group was established in 2006 by a young enterprising architect Joydip Sarkar. Providing world-class end-to-end commercial architectural solutions to their clients forms the vision of the Group.

Ever since its inception, Impact Design Cell has carved a niche for itself as a premier design firm providing a range of services in the fields of architecture, infrastructure & real estate. From being just a design consultancy at inception to handling large scale complex turnkey projects in architectural and interior designing, Impact Design Cell has come a long way in a span of just few years. It executes projects right from the drawing board to the construction stage. Impact Design Cell has leveraged its resources to build more than 1 million sq. ft. of commercial space for needs of various industry sectors like Corporate, IT, BPO, Banking, Retail, Hospitality, etc. and has executed over 100 projects for many leading companies.

Our design practice is unique wherein architects and the supervising team work closely together through the whole design process.

Every project begins with clear identification of the responsibilities of the clients and the designer. These responsibilities are co related with time and cost control. Then a system which allows for continuous monitoring is structural via maintain continuous communication with the client to ensure quality & timeliness of delivery at every stage, we Endeavour to provide our clients with outstanding value through an excellent cost and quality balance. The trust and enduring good relations with our clients have been a source of pride to Impact Design Cell.

The methodology adopted by Impact Design Cell is customer-centric, investigating the customer's needs, business objectives, design aspirations and corporate personality. Cost analysis and work-within-budget are natural mental disciplines which benefit the client as well as Impact Design Cell. By synergizing two distinct competencies, creativity and project execution, Impact Design Cell has become a dependable growth partner for its Clients.

Impact Design Cell is the group's flagship firm and a greater breadth and depth of services are offered to clients.